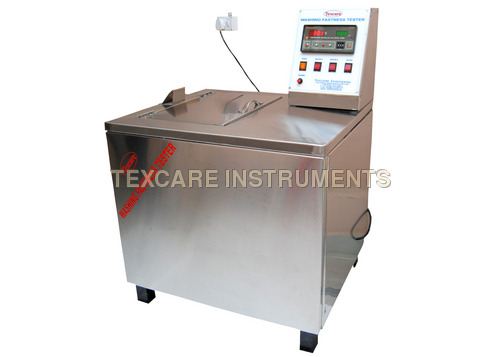 Product Description
Washing Fastness Tester

We are leading manufacturer, supplier and exporter of high precision range of Washing Fastness Tester.

!! We Have Specialized In Providing Complete Range Of Washing Fastness Tester With 4 Years Experience !!
We proffer our clients an excellent quality range of Washing Fastness Tester which is used to determine the color fastness of any type of dyed and printed textile material against washing. The sample washed with water and soap soda solution at particular temperature and period. Manufactured from high grade raw materials, these are offered in both standard and customized specifications to meet the diversified demands of our clients. Widely known for their durable finish standards, unmatched efficiency, smooth operation and high tensile strength, these Fastness Testers can be purchased by clients at competitive prices.
Features:

Easy to Reset Counter
Synchronous Motor Speed
Excellent Testing Performance
Longer Service Life
Suitable for every kinds of fabrics.
The measurement process is automatically generates, scan and reports which can be printed.

Technical Specifications

* TEXCARE washing fastness tester is completely made of Stainless Steel for long life operation and durability.
* Digital Temperature indicator and controller is used to maintain a particular temperature accurately.
* Digital timer is used with pre-set keys.
* Copper immersion heaters are used for quick temperature raise.
* Maximum temperature can be raise up to 98 deg.C
* Control panel is ergonomically designed for easy operation.
* Inching facility is provided for loading and unloading of beakers.
* Special quality silicon gaskets are used to prevent leakage and having long life.
* 200 Nos. SS Balls are supplied with machine for beating samples during washing.
* 500 Nos ( 5 Pack of 100 Pcs.) Adjacent Fabric is supplied with machine.
* Brass valve is provided at drain pipe.
* Motor : 1/4 HP geared motor Single phase
* Speed of Rotor Shaft 40 RPM
* Power : 230 V AC 50 Hz.

Following Models are available:

* 8 x 550 ml Capacity ( As per ISO Standards )
* 8 x 1200 ml Capacity ( As per AATCC Standards )
* 4 x 550 ml + 4 x 1200 ml ( For ISO and AATCC Standards )
* 8 x 550 ml + 8 x 1200 ml ( For ISO and AATCC Standards )

Related Standards

* ISO 105
* BS 1006
* AATCC 28, 61, 86, 132