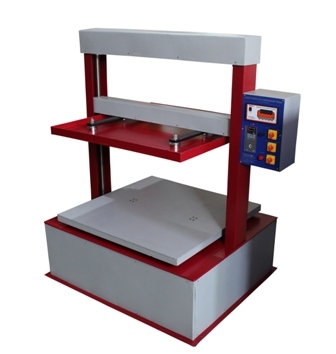 Box Compression Strength Tester
Product Code : 102
Product Description
Box Compression Strength Tester

! World's leading manufacturer and supplier of Box Compression Strength Tester !

| Latest | Innovations | Easy Install | Smooth Functioning | Industry Leader |
We are equipped with modern tools and advanced technology that enable us to manufacture, supply and export Box Compression Strength Tester. These testers are used for conducting test on boxes regarding their compression and thereby determining the load which a box would be able to bear. Offered testers are used for testing the ability of boxes to resist external compression through weight during storage and transit. Our manufactured Box Compression Strength Tester is one of the highly needed test for maintaining high standards and goodwill.
Further Details:

Strength of Corrugated and solid fibre board boxes are subject to compressive forces when stacked and during transportation. It is crucial to work out the Compression power of the carton in alignment to make certain that the box will be adept to oppose the foreseen compressive forces and to work out the burden that the box will be able to with stand throughout transit and storage. This equipment is designed to measure ability of the boxes resist external compression loads during transit and storage. Compression Strength Test also serves as a useful index of overall quality of the material and workmanship of the box.
Features:

Single-Screen Operation
Strong Rigidness & Volume
Easy to Switch Software Interface
Accurate Measurement
With high quality
Automatic or manual operation.
User friendly control panel, easy operating.
Technical Specification:
Platform Size 600 x 600mm , 1000 x 1000 mm or as required by customer

Loading Capacity: 0 to 1000 Kgf

Least Count : 0.1 Kgf / 0.5 Kgf

Peak Hol Facility on Memory

Testing Traverse Speed : 10 ± 3mm/min

Variable Speed Drive (Optional)

Tare Facility available

Digital Model with user friendly control panel.
Related Standards:
IS

7028 (Part VI) 1973

ASTM D 4577 94/D 642- 98
Fefco : TM 50 1997
TAPPI T 804 om-02