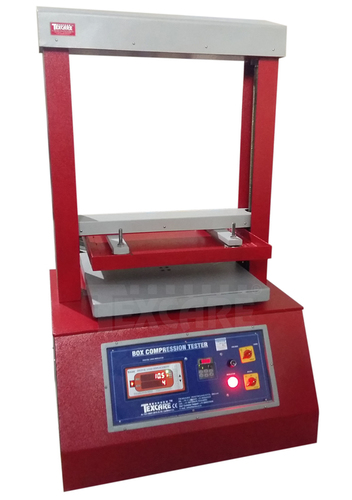 Product Description
Box Compression Tester

! World's leading manufacturer and supplier of Box Compression Tester !

| Latest | Innovations | Easy Install | Smooth Functioning | Industry Leader |
Our well established firm is engaged in manufacturing, supplying and exporting Box Compression Tester. These testers are used for determining the compression strength of package boxes. The compression test of boxes is necessary for knowing the effects of various board closures, mediums and interior partitions on applying load and bend. Offered Box Compression Tester is widely used in packaging & paper industry worldwide. Moreover it is ergonomically designed as per the international mechanical standards.
Features:

Single-Screen Operation
Strong Rigidness & Volume
Easy to Switch Software Interface
Accurate Measurement
With high quality
Automatic or manual operation.
User friendly control panel, easy operating.
High-pressure liquid pressure control system.
Introduction

Strength of Solid Fibre Board and Corrugated Boxes is subjected to compressive forces when stacked / during transit. It is essential to determine the Box's Compression Strength in order to ensure that the box will be able to withstand expected compressive forces, and to check the load that the box will be able to withstand during transportation & storage. Our Box Compression Tester is designed to measure the ability of the boxes to resist compression loads during transportation & storage. The Compression Strength Test also works as an important index of overall quality of the workmanship and material of the boxes.

Higher capacity box compression strength tester is also available.

Technical Specification
Platform Size 600 X 600 mm
Loading Capacity: 0 to 1000 Kgf
Least Count : 0.1 Kgf
Peak Hold Facility on Memory
Testing Traverse Speed : 10 :r 3mm/min
Tare Facility available
Digital Model with user-friendly control panel.
The equipment is built on a strong metallic base plate, Heavy-Duty motors with reduction gear box.
Power Supply 220 V AC 50 Hz or 415V 3 Phase (As required by customers)
Related Standards:
IS 7028 (Part VI) 1973, ASTM D 4577 - 94/D 642 - 98, Fefco : TM 50 1997, TAPPI T 804 om-02

Other Information:
Minimum Order Quantity: 01 Set/Sets
Port of Dispatch: Delhi -India
Production Capacity: 60 Machines Per Month
Delivery Time: 3 - 4 Week
Packaging Details: Wooden Packing