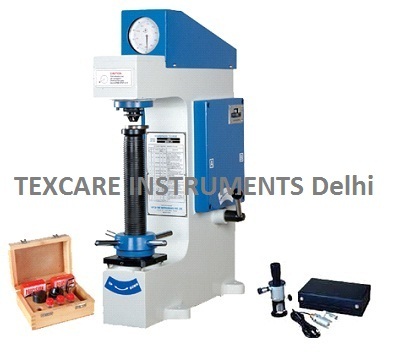 Product Description
Avail from us Rockwell Cum Brinell Hardness Tester that is extensively demanded in laboratories and research departments. It is used to test the hardness of the various kinds of metal based products. This tester is manufactured in adherence with international quality standards using quality-assured components and avant-garde techniques under the stern guidance of our professionals. Besides this, we offer this Rockwell Cum Brinell Hardness Tester to the clients at reasonable prices.
Features:

Easy to operate

Authentic results

Commendable sturdiness

Longer service life
Details:
Rockwell Cum Brinell Hardness Testing Machine is combined hardness testing equipment used to measure hardness of metals & alloys of all kinds, hard or soft, whether round, flat or irregular in shapes.

This equipment is ideally suitable for laboratories, tool rooms, Heat treatment shops, R&D departments, and inspection departments, casting & forging industries, educational institutions.

Rockwell & Brinell method is meant for checking hardness on metals & alloys of all kinds.

Brinell hardness is checked also on non-ferrous materials like Cast iron, Aluminium, etc.

Automatic weight selection with automatic zero setting in dial gauge.

For Rockwell test minor load is 10 kgf & major loads are 60,100,150 kgf.

Brinell test for Model : TI-RB major load is 187.5 & for TI-RB250 is 250 kgf.

Rockwell hardness scales for instance HRA, HRB, HRC, etc. Brinell hardness scale such as HB is obtained by using different types of indenters (Diamond / Ball).

Motorized version are also available. Instruments strictly conforms to IS:1586- 2000 for Rockwell test

IS:2281, BS:240, ASTM-E-10 for Brinell Hardness test.
Technical Specifications
Model

TI-R

TI-RB

TI-RB250

Test
Loads (kgf)
60, 100, 150
(Rockwell)
60, 100, 150
(Rockwell) & 187.5
(Brinell)
60, 100, 150
(Rockwell) & 187.5,
250 (Brinell)

Initial Loads (kgf)

10

10

10

Max. Test
Height (mm)

295

295

295

Depth of
Throat (mm)

148

148

148

Max. depth of elevating screw below base (mm)

290

290

290

Overall Dimensions (L X W X H) (mm) (Approx.)

580 x 270 x 915

580 x 270 x 915

580 x 270 x 915

Nett. Wt.
Approx. (kg)

110

110

160

Scales Displayed

Rockwell A, B, C, D, E, F, G, H, K, M, P, R, S, V, L in Nos. 1 to 15 resp.

Least Count

0.1

0.1

0.1

Minor Load Setting

By Bar Graph Indicator

Load Control

Automatic (Loading, Dwell, Uploading for major load)

Dwell Time

1 to 99 seconds (selectable)

Printer Interface

Centronics Parallel Port to connect Dot Matrix Printer (Optional)

Power Supply

220V Single Phase AC 50 Hz
Related Standards:

BS:240, IS:2281
ASTM E-10 for Brinell Hardness Test
ASTM D785-65