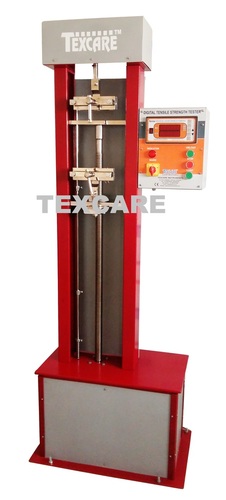 Product Description
Tensile Testing Equipment
We are leading manufacturer, supplier and exporter of high precision range of Tensile Testing Equipment.

!! We Have Specialized In Providing Complete Range Of Tensile Testing Equipment With 4 Years Experience !!
Committed to attain the utmost level of client satisfaction, we are engaged in manufacturing and exporting Tensile Testing Equipment. Our expert procuring agent procures certified quality materials from trusted vendor base for engineering these testing equipments at per with industrial guidelines. Extensively used to measure breaking force of different fabric, wire, yarn lea, board, cable, plastic sheet, HDPE bag and jute bag, Tensile Testing Equipment is offered to our clients at the feasible prices.
Features:

Continuous Measuring Mode
Automatically Replace Nozzle
Excellent Testing Results
PC Connect Interface
Be able to preset tensile force.
Completely self-acting Electronic lone.
Adopt microcomputer command scheme.
Exceptional conceived pneumatic clamp can satisfy the obligations of diverse kinds of check materials.
Further Details:
The burden exerted on the stationary grip is felt by a burden cell and indicated by a digital burden indicator. The Microprocessor founded burden indicator is litigated in Tensile Strength Tester and has the facility of over burden defence, peak contain and auto calibration. The burden exactly demonstrated in kilograms or Newton.

Technical Specification:
Capacity of Tester with accuracy of 100g. : 250 Kgf. and 500 Kgf.
Capacity of Tester with accuracy of 10g. : 20 Kgf, 50 Kgf and 100 Kgf
S Type Load Cell fixed with Top Grip
Traverse Speed - 300 & 100mm /min.
Max. Grip Separation: 1000 mm
Min. Grip Separation: 25 mm
Top Grip is fixed and Bottom Grip is Movable Type.
Elongation measurement by Steel Scale and Digital Counter Meter Both.
Digital Display of Load and Elongation.
Peak Value of Last test can be read.
User friendly key panel with switch of Zero setting and peak value of last test
Motor : 1/2 HP Single phase 220V 50 Hz. ( for Capacity up to 100 Kgf )
Motor : 1 HP Single Phase 220 V 50 Hz ( for Capacity up to 500 Kgf)
Power - 220 V AC 50 Hz.
Safety Device: By Limit Switch to protect from Over Traverse.
Related Standards: ASTM D 434, D 1578, D 5034, D 5035, BS 1610, BSEN 1002 3, DIN 51221