Bursting Strength Tester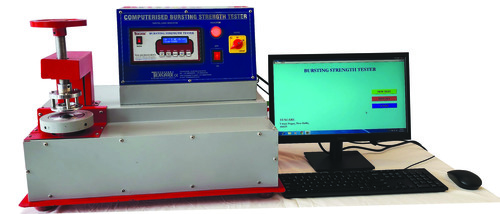 Bursting Strength Tester
Price And Quantity
Product Specifications
Product Description
Bursting Strength Tester
We are leading manufacturer, supplier and exporter of high precision range of Bursting Strength Tester.

We Have Specialized In Providing Complete Range Of Bursting Strength Tester
From our lowly beginning as a small-scale company, TEXCARE has progressed to be a world-class Exporter & Manufacturer of Bursting Strength Tester and with mission to advancing technology and triggering off invention for engineering an improved range. We have strategically built up well equipped infrastructure that enables us to manufacture, supply and export Bursting Strength Tester which efficiently tests strength properties in order to ascertain the applications of the material. Our high-technology range of Bursting Strength Tester is used in the different industries for checking the bursting strength of leather, card broad, fabric and paper. From our contribution to technological development in Bursting Strength Tester to our advancement in manufacturing mechanism, we "TEXCARE" share substantive experiences with clients around the world for optimizing and improving the product line.

Through our dedication to create superior products and supply across all markets of our business, we strive to come up with intelligent technology in the form of Bursting Strength Tester that can overcome all flaws and give accurate testing knowledge of bursting strength without any testing errors. We endeavor to enhance the overall machines' qualities and open up the door of market expansion. Innovation is central to our business. As new development in technology is constantly taking place in the industry, so we speed up our research work to remain competitive in the markets. This is the reason why our models of Bursting Strength Tester is optimally efficient in estimating the real behavior and reliability of fabrics and paper. Our clients appreciate the testing machine for maintenance free and simple operation. Using hydraulic power for operation, these products consumes very less energy.
Feature & Characteristic :
Digital processor
Automatic & semi-automatic
User-friendly menu interface
ISO Calibration certificate
High quality with reasonable price
Advanced micro computer controlling system
Printer facility (Optional Configuration)
Excellent power protection system that ensure data recovered when power cut off
Technical Specifications Of Bursting Strength Tester :
TEXCARE Bursting Strength Tester
Maximum Capacity: 35 Kg/cm2
Test Fluid : Glycerin
Capacity of Test Fluid tank: 160 ml
Rate of Fluid Displacement: 95 cc / Minute
Opening of upper clamp 31.5 mm
Opening of lower clamp 30.5 mm
Motor : 1/4 HP Geared Motor
Power 220 Volt AC 50 Hz.
Complete with all accessories including calibrated aluminum foil for calibration.
Related Standards
ISO 2758, 2559, 3303, 3689
BS 3424, 3137
ASTM 3786, ASTM D 774
Other Information:

Pay Mode Terms: T/T (Bank Transfer), Western Union, Moneygram, Other
Minimum Order Quantity: One Set
Port of Dispatch: Delhi, India
Production Capacity: 200 Machines per Month
Delivery Time: Max 1 week
Packaging Details: Wooden Packing, Wooden Crates, Industrial Packing