Martindale Abrasion Tester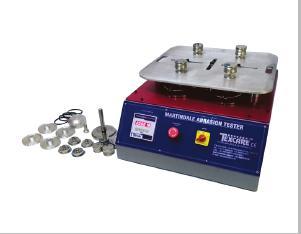 Martindale Abrasion Tester
Price And Quantity
Product Specifications
530 mm Millimeter (mm)

40kg Kilograms (kg)
Product Description
Martindale Abrasion Tester

We are leading manufacturer, supplier and exporter of high precision range of Martindale Abrasion Tester.

We Have Specialized In Providing Complete Range Of Martindale Abrasion Tester With 4 Years Experience !!
The name of our firm is listed among the reliable manufacturers, suppliers and exporters of Martindale Abrasion Tester. These testers are used for determining pilling and abrasion resistance of various non-woven, woven, coated and knitted fabric. Offered tester is designed to subject the specimen, under controlled rubbing at continuously changing direction and in comparatively low pressures. This test is done to ensure that all surface fibers are flexed on the specimen, for accessing resistance of fabrics to abrasion. The resistance to abrasion is determined through the loss in mass of specimen or by number of rubs to break a yarn. Customers can avail Martindale Abrasion Tester from us.
Features:

Continuous Measuring Mode
Automatically Replace Nozzle
Excellent Testing Results
PC Connect Interface
Be able to preset tensile force.
Completely self-acting Electronic lone.
Adopt microcomputer command scheme.
Exceptional conceived pneumatic clamp can satisfy the obligations of diverse kinds of check materials.
Technical Specification:

No. of Heads : 4
Working Pressure on test specimen : 3 KPA, 6KPA, 9KPA and 12 KPA (4 Nos each)
Exposed area of Test Specimen : 6.45 cm2
Maximum Available Pressure : 12 KPA (790 gms)
Rotational speed of Outer peg : 48 2 RPM
Drive (Speed) ratio of Outer and Inner peg: 32:34
Total Stroke of Outer and Inner Peg : 24 mm for Pilling
60 mm for Abrasion
Power Supply : 230 V AC 50 Hz.
Power Consumption : 0.2 KWH
Related Standards: ISO 5470, BS 3424, 5690, JIS L 1096, ASTM 4966 / 4970-99, DIN 53863, 53865, SFS 4328