Single Yarn Strength Tester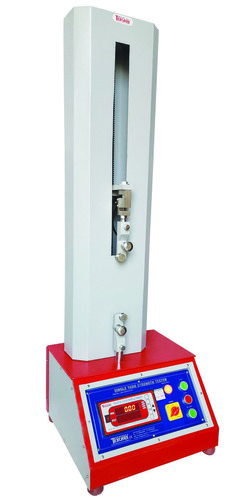 Single Yarn Strength Tester
Price And Quantity
Product Specifications
Product Description
The Single Yarn Strength Tester is an ideal instrument for testing the strength of single yarns. It is designed to measure the breaking strength of any single yarn with a capacity of up to 20kg. With a least count of 1gm and a traverse speed of 300mm/min, the tester is very accurate and efficient. It is equipped with an LCD display and runs on 220V power. The gauge length available are 200mm, 300mm, and 400mm.
Product Details:

| | |
| --- | --- |
| Capacity: | 20kg |
| Least Count | 1gm |
| Traverse Speed | 300mm/min |
Single Yarn Strength Tester:

Used to determine Breaking Strength of Single Yarn

Safety Device for Over Traverse
Over Load Protection
Power: 220V AC 50Hz
Technical Specification
| | |
| --- | --- |
| Capacity: | 20 kg |
| Used | To Determine Breaking Strength of Single Yarn |
| Traverse Speed | 300 mm/min |
| Power | 220V AC 50Hz |
| Least Count | 1 gm |
Frequently Asked Questions
What is a single yarn strength tester?
A single yarn strength tester is a machine used to measure the strength of a single yarn strand. It measures the amount of force needed to break the yarn and determines the strength of the strand. The results are usually reported in units of force, such as grams per denier or newtons per tex.
Which test is done for single fiber strength test?
The single fiber strength test is usually done using a tensile testing machine, which applies a constant pulling force to a single fiber to measure its strength and breaking point.
What is OTDR and LSPM testing?
OTDR (Optical Time Domain Reflectometer) testing is a method of testing an optical fiber by sending a laser pulse from a device called an OTDR and measuring the time it takes for the pulse to be reflected back. This allows technicians to detect faults such as breaks or poor connections in the fiber.