Taber Abrasion Tester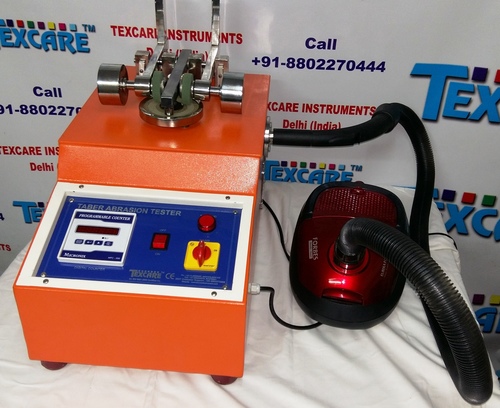 Taber Abrasion Tester
Price And Quantity
Product Specifications
Product Description
By commencing our business operation as the manufacturer, exporter and supplier of testing equipments, we have also betrothed to offer Taber Abrasion Tester. The provided tester is well-suited to test the abrasion resistance level of substrates such as fabrics, leather, paper and tapes. This tester is manufactured using optimal quality components and cutting-edge techniques in line with international quality standards. Apart from this, we offer this Taber Abrasion Tester to the clients at most competitive prices.
Features:

Practical and reliable results

Accurate sensitivity

Longer service life

Easy to operate

Introduction

There are different methods for determination of the abrasion resistance of a material; and one of the methods is resistance-to-wear through abrasive wheels. The progressive fall of material from operating surface of a coated material or plastic resulting from the scratching action or cutting action of the abrasive wheel. The key principle of this test is: two abrasive wheels are practiced to the specimen of test with a specified load. After rotation of the specimen of test through a specified number of revolutions, the obtained wear is assessed by a suitable procedure (e.g. mass loss / change in optical properties.

TEXCARE Taber Type Abrasion Resistance Tester is made on a strong metallic base plate and there is a test specimen support disc, which is fixed & flat to its driving shaft backed by two ball bearings. The disc rotates with the support of a motor & gearbox. And the number of rotations is regulated by a four digit preset digital counter. Supported by two symmetrical arms there are two abrasive wheels, and these are oscillated freely about a horizontal axis. Through the two ball bearings on each wheel, the wheels rotates freely. There are a number of counter weights for employing the force on the specimen of test at the time of testing. The mounting wheel has specified dimensions and cylindrical shape. For the removal of wear debris, there is a vacuum arrangement including two exhaust nozzles above wear zone of test-specimen. All the parts of the instruments are powder coated, painted or chrome platted to ensure good corrosion resistance and long life of the instruments.

Technical Specification

Minimum diameter of the test specimen support disc

100 mm

Rotation speed of the disc

60 / 72 rpm

Center to center distance b/w disc and Abrasive wheel

19.1 mm

Thickness of the abrasive wheel

12.7:0.1 mm

External diameter of the disc

51.6 10.1 mm

Motor

1/ HP single ph, 22oV AC, induction motor

Gear box

Worm reduction gear box
Related standard: ISO:9352: determination of resistance to wear by abrasive wheels.
Product details
| | |
| --- | --- |
| Abrasive Wheel Thickness | 12.7 +-0.1 mm |
| Condition | New |
| support Disc | 100 mm |
| Rotation Speed | 60 +-2 rpm & 72 +-2 rpm |
| Motor | 1/4 HP single ph, 220V AC, induction motor |
| Gear Box | Worm reduction gear box |
| Disc External Diameter | 51.6 +-0.1 mm |