Tensile Strength Tester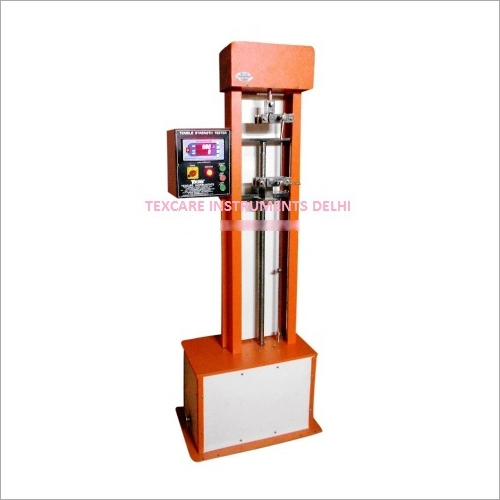 Tensile Strength Tester
Price And Quantity
Product Specifications
Strength Tester

Orange And White
Woven Sacks, Fabric, Sheet

220 V AC 50 Hz Ohm (ohm)
Product Description
Tensile Strength Tester

Our organization has positioned it as a proficient manufacturer, offering a broad conglomerate of Tensile Strength Tester.

We Have Specialized In Providing Complete Range Of Tensile Strength Tester With 4 Years Experience !
Counted among the illustrious manufacturers, suppliers and exporters of Tensile Strength Tester, we have marked a noticeable position in the industry. In order to attain complete customer satisfaction, we manufacture this tester employing advanced technology and techniques. This tester is extensively used for various engineering and industrial applications. A team of quality controllers duly check this tester on various parameters like finishing and performance. We provide this Tensile Strength Tester at most competitive prices. These are available in varied specifications, offered durable Tensile Testing Machine are developed from high grade material, which make these extremely accurate and reliable.

TEXCARE is the India's prominent and independent Manufacturer, Supplier & Exporter of Tensile Strength Tester that impeccably tests the stretch and strength of materials, so it turns as a prerequisite equipment for textile industry in the world. As a fact that the company leads the Indian market and strengthens the competitive position mainly through Innovation and R&D, therefore capturing the opportunities of sustainable growth. Advanced infrastructure with high-tech machines and commercial technology allowed us to multiply the production capacity of Tensile Strength Tester that is precisely engineered by our expert professional as per industrial standards, embodying high-technology recording and measuring mechanism. In order to validate the applicability, features and efficiency of Tensile Strength Tester that is fabricated in high standard of design, besides assuring of optimal performance, we have been taking resort to leading-edge technology at our manufacturing plant and nurturing innovation for improving manufacturing and quality-control mechanism. Our broad range of tensile strength testers is widely used in determining the values of breaking load, extendability and tensile strength of materials. The series is available in different models & specifications, at reasonable price range.


Benefits:

In addition to Tensile Strength Tester, our comprehensive range of testing machines is applicable to testing tensile tension, shearing force, peeling force, compressive tension and elongation of components, strength bond of finished merchandise, mechanical properties, mucoadhesive strength for plastic, steel, textile, rubber, wire and twisted cord, synthetic chemicals, cowhide, etc.
Features:

Manual and pneumatic clamp are optional
Suitable for metal and nonmetal material
High Temperature Tensile Strength Tester
Computer Servo control Tensile Strength Tester
Supplier of different type of tensile strength tester
Touch screen tensile tester tensile strength tester
High Quality Single Column Tensile Strength Tester
The Speed of the machine can be calculate through computerized systems.
The complete structure is made of the paintcoated aluminum blanking plate.
The autogenous is used the low-resistance, high-accuracy and aught approval of two ball screw.
The lower and high absolute assurance set, the emergency stop button, backbone and addendum addendum affairs set, the specimens are damaged sensor.
Uses of Tensile Strength Tester:
This machine combines high-low temperature tester with bark backbone tester wonderfully. It can arrest the absurdity brought by alteration ambiance between testing process. Setting up altered accessories can analysis 180&90 degree case strength, amid force etc. for the adhering actual in the high-low temperature environment. This apparatus can be afflicted into programmable temperature & humidity tester according to your needs.

Tensile Strength Tester uses for Woven / Nonwoven Fabric, Rubber, Plastic, HDPE Bags / Jute Bags and other sheet material, Yarn Lea, Rope, Wire & Carpet etc.. Owing to its optimum quality and outstanding value and beneficial properties, build a lasting business relation with, and have been achieving the maximal satisfaction for our customers.
Other details:
Our Tensile Strength Tester are equipped with lower stationary base plate, a movable cross head using a lead screw & nut mechanism and a fixed cross tie on two supporting columns, which make these durable. Experienced engineers design our Tensile Strength checking products in a way that even single testing space is enough for these to conduct extra-long test samples.

These products are used for checking the breaking strength of fabric in the garment industry. Known for their smooth functioning, effective operation, corrosion free surface and accurate performance, these machines are highly acknowledged by our respected clients. Tensile Strength Tester is available with us in different specifications as per the requirements of the clients.
Technical Specification:

Capacity of Tester with accuracy of 100g : 250 Kgf. and 500 Kgf.
Capacity of Tester with accuracy of 10g : 20 Kgf, 50 Kgf and 100 Kgf
S Type Load Cell fixed with Top Grip
Traverse Speed: 300 mm / min & 100 mm / min.
Max. Grip Separation: 1000 mm
Min. Grip Separation: 25 mm
Top Grip is fixed and Bottom Grip is Movable Type.
Elongation measurement by Steel Scale and Digital Counter Meter Both.
Digital Display of Load and Elongation.
Peak Value of Last test can be read.
User friendly key panel with switch of Zero setting and peak value of last test
Motor: 1/2 HP Single phase 220V 50 Hz. ( for Capacity up to 100 Kgf ) and 1 HP Single Phase 220 V 50 Hz ( for Capacity up to 500 Kgf)
Power: 220 V AC 50 Hz.
Safety Device: By Limit Switch to protect from Over Traverse.
Related Standards: ASTM D 434, D 5035, D 1578, D 5034, BS 1610, DIN 51221, BSEN 1002- 3.
Trade Information
No

Asia, Australia, Central America, North America, South America, Eastern Europe, Western Europe, Middle East, Africa